After arguably their most successful album AM was released in September 2013 Arctic Monkeys have enjoyed mainstream success, a sold out tour and growing recognition around the world. So isn't now the right time for the band to disappear for a bit.
I am going to caveat this article by mentioning that I am a HUGE Arctic Monkeys fan. When the band emerged in 2005/06 they stoked a fiery passion for indie rock that began when I discovered The Strokes, The Libertines and The White Stripes as a pretty young teenager. It's safe to say I've followed Arctic Monkeys ardently since the early days with every new album and subsequent tour my adoration has grown. When the band delivered AM a year ago it seemed like a culmination of 7 years work and pushed the band into new frontiers. It is still the only album to get a rating of 10/10 on Music Blogged.
The band followed the album release with a frankly relentless touring schedule. With 180 shows played in 2013/14 it goes without saying that Arctic Monkeys are one of the hardest working bands out there. I was lucky enough to see the band play 3 times on their AM tour, including their Glastonbury 2013 headline set. The show at the musical mecca that is Glasto was, for me the greatest I have ever seen the band play (it was my tenth monkeys gig). The band oozed self-assurance, talent and charisma. The confidence lacking in years gone by was there in abundance and if there was a single person in that crowd who wasn't a fan at the start of the set, they were certainly converted by the end. If you saw the band on the majority of their latest tour I'm sure your experience would have been the same.
This rise-and-rise gained the band thousands more fans and album/ticket sales the band hadn't seen before, but over time I have started to notice a change in the bands character. I'm not talking about the swaggering image asserted by the band (especially frontman Alex Turner) which concerned a big chunk of fans because I don't think it's anything new. Look back at Whatever People Say I Am, That's What I'm Not and you'll hear a bunch of scallies describing life growing up in Sheffield – the image matched with polo shirts and tracksuit bottoms the bands uniform of the time, Favourite Worst Nightmare was more focused and again the stripped-back image matched, Humbug saw a new level of maturity from the band and the brogues & shirts worn by the band echoed this, Suck It and See was a transition album and with this the band began to ditch the shirts in favour of leather jackets and aviators. Perhaps the image informs the music or maybe it's the other way round. So when AM was released and I heard the dirty, grungy, sexy music that emerged, the image change made sense. I've always thought Turner's the swagger, jacket and greaser hair was a homage to one of his heroes and occasional contributor Richard Hawley (together the band and Hawley have put out music as The Death Ramps).
I may digress, but there's a point there. Arctic Monkeys always change, they evolve and improve with every new era associated with the latest album. With this in mind I think it is about time that Arctic Monkeys bid farewell to the AM era. It's hard to say goodbye to a good thing but I have my reasoning.
Anyone who watched Arctic Monkeys play live early in the AM era would have seen how fresh the band were, but those who have watched them in the last few months surely could not admit the same. At Reading festival (held in August) the band honestly looked tired and slightly deflated. Don't get me wrong, the set was still stunning but it lacked the vigour usually associated with the band. Tracks that usually bounce with energy were played at a slower pace and frontman Turner looked like he was being helped through the set by something a little unusual. This weariness has been a feature of the recent shows I have seen and for me it indicates that the band needs to stop. They don't have that many shows left in 2014 and I think that is a good thing, they need time to rediscover their energy.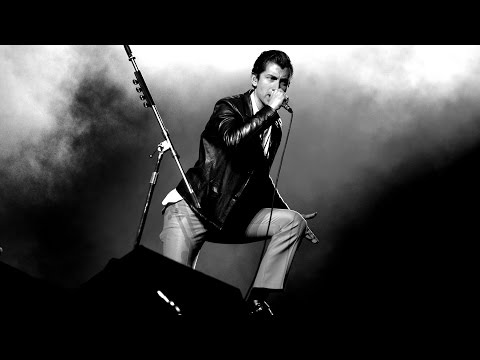 As much as it pains me to say this, I think this also means that Arctic Monkeys need some time away from the studio. I would love another album in the next 12 months, but I worry that if the band write and record while suffering from a lack of drive, this will be mirrored in the subsequent album. So what would I like to see from the band? I'd like to see them enforce a sizeable break where they don't let anyone talk them into a lucrative gig or into getting back into the studio too quick. A few band members have new families to spend time with; guitarist Jamie Cook recently got married and bassist Nick O'Malley became a new father. I'd love to see Alex Turner resurrect The Last Shadow Puppets with best mate Miles Kane, the time just seems right for both to focus on something a bit different and I don't think Turner is someone that can keep the creativity at bay for long.
It might seem backward to suggest that your favourite band should take a break, but I don't want to see Arctic Monkeys become one of those bands that put out material for the sake of it or one that cashes in on new found popularity with tours that drag on because of lucrative ticket sales. I don't think that Arctic Monkeys have that in them, this band is one of the best in the world because they define what it means to change and grow and I hope they are given the time and space to do this. I'm certain that if this happens they will return to set the world alight yet again before we've even noticed that they have been away.
Agree with us? Disagree? Tell us why in the comments section below