Rating:
 6.5/10
Thirty Seconds to Mars have been off the scene for a while, well, for the past few years since they released This Is War you could say they've been 'off the scene'. What with being one of the most fan oriented bands out there, they did their fair share of touring (2 years straight) and deserved a 'break'. However fans were delighted with the announcement of their 4th studio album, LOVE LUST FAITH + DREAMS which the band have been working on for the last year.
You will see so many mixed opinions about LOVE LUST FAITH + DREAMS. So many, that it's difficult to decide whether it's good, ok or bad. However, when you've taken the time to listen through it becomes hard to deny that it shows a new part of Thirty Seconds to Mars. The band have they've pulled out all the stops when it comes to experimenting on this album, there are vivid changes that people have commented on in negative ways, but the album still has the similarities with the 'typical' Thirty Seconds to Mars sound that when viewed together have created this whole new vibe.
Birth is the first song on the album and make or break for people who rate a whole album on the first song. Well Birth immediately gives out the sense that a change is in the air; there's an eerie, mysterious introduction of a basic drumming rhythm and a new input of classical music that really does make you wonder what this new album will bring. Birth rolls straight into Conquistador, a song that brings back the old style of the band from their previous 3 albums. Throughout the whole album there is no change in the way the vocals are portrayed, but there is the sense of change instrumentally, there is more… electricity.
A stand out track from LOVE LUST FAITH + DREAMS is recently released single Up In The Air (watch the video below) and for so many fans it took a while to get used to, it's the new sound that has thrown people off guard and made them reluctant to even want to hear the complete album. But on the whole these fans are missing out because this is a good album and will probably go down as one of 'those albums' that fans will remember.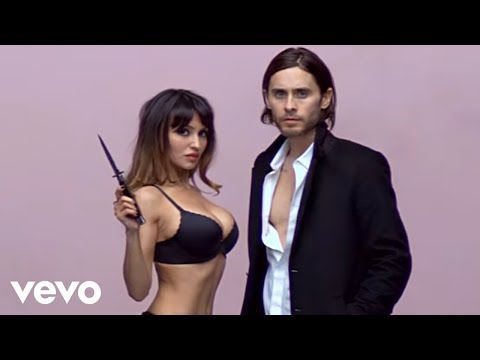 When listening to the whole album it is true that Thirty Seconds to Mars have changed their sound. Maybe they have done this for themselves, to try something new or to fit the media of today by going more mainstream and taking on those ideas, instead of sticking to their original sound that brought them the success in the first place.
Every band has 'that one album' that just isn't as good as the rest, maybe this one is it for Thirty Seconds to Mars, it's one of those albums you'll either love or hate… like marmite.
Review by Harriet Willis