Sitting in the New York City sun, smoking a cigarette, and listening to Mac DeMarco's second full-length studio album Salad Days is an enlightening experience. Seeing as Demarco recorded the 11-track album in his smoke-filled Brooklyn apartment, one can almost embody him in this act; contracting his contagious, carefree, Canadian spirit. Demarco made a name for himself in the Indie music world with his first two albums Rock n' Roll Nightclub and 2. His dozy, feel-good sound and stage presence- so wonderfully ridiculous that one recalls Gogol Bordello or Of Montreal's Kevin Barnes– worked to pigeon-hole Demarco as an artist with a childish sensibility and a penchant for immature, vacant lyrics. But alongside his claim that he no longer wishes to write music about "absolutely nothing" (in Demarco's case a love of cigarettes and smoky nightclubs), comes Salad Days.
The title of the album itself suggests a more serious theme, denoting the critical time when one realizes their youth is passing more quickly than they'd like and which Demarco references in the same-titled track singing "Oh mama, actin' like my life's already over/ Oh dear, act your age and try another year." However, Demarco manages to keep his jaunty outlook intact by coupling lyrics about insecurities in growing up and haunting loneliness with his upbeat rhythms and guitar riffs that sound like a teasing lover's touch, exciting you with each playful pluck and then fading in and out, faster and slower. Demarco makes you want the next beat, letting the essence from the last linger in your ear with white-noised fades and long-running chords.
Demarco's inclusion of his jovial sound in the more serious Salad Days suggests he hasn't changed at all and that the album acts as rumination on past mistakes rather than a display of neurotic preoccupations that one wouldn't expect from laid-back Mac. Like the track "Blue Boy", which conjures an image of a young Demarco smoking weed in his dingy, Montreal basement- "worried about the worlds eyes/worried every time the sun shines/worried about his haircut/ calm down, sweetheart, grow up." It's as if Demarco is urging his younger self not to fear the realities of adulthood, a notion that may have inspired Salad Days' "real-talk" heavy lyrics. Likewise, Demarco offers personal accounts of disillusionment in the pained track "Let My Baby Stay" about his longtime girlfriend Kiera, who was being deported back to Canada at the time of the album's recording. However, the song fails to match the rest of the album with a redundant guitar beat and the absence of any crescendo to emphasize Demarco's singing, which incidentally tiptoes across the boring melody in a lovely, Devendra Banhart-type quiver. Sure the song's melancholy subject doesn't deserve a Bebop-paced beat or sense of excitement, but the calculated slowness of the track weighs it down with an unfitting calmness and banality.
Ironically, Demarco is more successful in "Let Her Go" where his distinct laid-back pedal effect shines through his dreamy vocals like a California sunset. It's likely Demarco is still in the process of learning his strengths as an artist so it's worth noting the successful combination of the disparate guitar plucking introduced in Rock n' Roll Nightclub and the pedal effect we've grown to love from 2. Mix the two styles and the result is an interesting stew of un-ignorable funk beats and lo-fi, psych-pop sultriness. Demarco stays true to his roots with these familiar effects but maturity has brought along a wider variety with tracks like "Chamber of Reflection", in which the static synths and reverb Demarco uses remind one of 80's lounge rock or Destroyer's disco-dipped tune "Kaputt." The first single off the album, "Passing out Pieces", which cites Demarco's hastiness in sharing himself with the public, excites with the same hazy sound while Demarco dreamily drones over arcade-game synths in a shaky but soulful stream.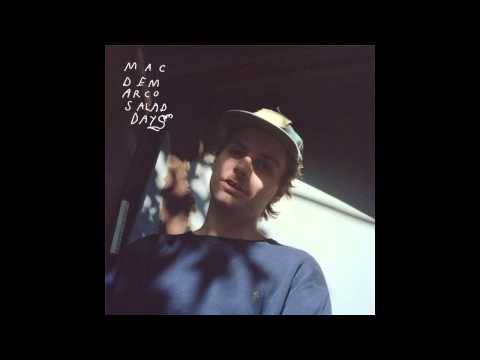 It seems as if Demarco has tired of stripping nude solely on stage and has opted to expose himself with the more personal, self-reverent lyrics apparent in Salad Days. But don't fret Mac-cies, Demarco's loyalty to his sunny, psychedelic sound gives hope that he plans on sticking to the style he does so well.
Salad Days is available to buy now