Death Grips recent split came out of the blue, however it wasn't an overwhelming shock. On previous releases they have ignored every piece of advice given to them, and flaunted every rule in the book; but does this continue with their latest album?
Rating:
6.5/10
Since they achieved wide fame with 2012's The Money Store, an album that for all its controversies was easily accessible with the hooks of 'I've Seen Footage' and 'Hustle Bones', Death Grips have point blank refused to continue down the roads that The Money Store appeared to open up.
Front man Stefan Burnett has always seemed to be hell bent on producing the exact opposite of what is expected from Death Grips, and in the last few years it seems that the only influences that they take note of is their own back catalogue.
This approach has been largely successful, despite their ill advised 'Fuck You' attitude they impose on everyone and everything, none more so evident than during the aftermath of The Money Store's release. Having signed a two album deal with Epic Records, Death Grips cancelled their album tour to work on the follow up, No Love Deep Web. Having completed it, Burnett was keen to release it before the end of 2012, but the record deal stated they had to wait until 2013, so Death Grips casually made it available online for free, forcing Epic Records to drop them. The album cover featured the title scrawled in black marker on an erect penis, as if emphasising Burnett's complete aggression towards anyone and anything else.
Burnett followed this up by posing for a photo shoot by standing topless, on the very edge of a building roof, with his two arms spread out wide either side of him, sticking both his middle fingers up. This action seemed, again, to be directed at the entire world, and appeared to be a ploy to simply get us away from his band and his life.
Perhaps unfortunately for Burnett, No Love Deep Web was a terrific record. The degree of menace and total claustrophobia throughout the album was in complete contrast to The Money Store, and completed a second consecutive U-turn in dynamic, following the hugely differing styles of debut Exmilitary and follow up The Money Store.
Niggas On the Moon, we have been promised, is actually part of a double album due out later this year, titled The Powers That B. Whilst the confidence of Burnett and co. to deliver such a piece of work successfully is admirable, it has reached a stage where the question needs to be asked. Is it wise to continue down a path in which Death Grips are making music more and more for themselves rather than anyone else?
Up till now, the answer has been, unequivocally yes. Last years Government Plates again opened up their sound in different ways, stripping down the overbearing noise that we're used to, and instead turning in a minimalistic record that demanded thought and intrigue rather than head banging and guilty rebellion.
Death Grips are a tight crew, and to produce four excellent albums in three years is no mean feat. But, with Niggas On The Moon, they falter. You cannot escape the feeling that you've been there before, and it even forces you to question whether you should have felt this way earlier. It opens strongly enough, with 'Up My Sleeves', easing you back into Death Grips startling and confining world, but the sense of irony is hard to escape when it becomes apparent that Burnett doesn't have anything up his sleeve. "Notify me when you miss it/ I'll be on my liquid/ Pickled but lavished" he states. If you miss the originality of Death Grips, Burnett doesn't care.
Niggas On The Moon doesn't lose any of the energy of previous releases, but it doesn't expand or explore that energy either. On 'Black Quarterback' Burnett makes as if to travel a new dimension lyrically but then deliberately leaves questions unanswered. "Handling of the/ Landing of the/ Kicked under the/ Vacant on the/ Me versus the/ Losing to the/ Cackling like the," he mocks. Of course, it's not for us, it's for Burnett, but it makes you wish that Death Grips were just a little less selfish sometimes.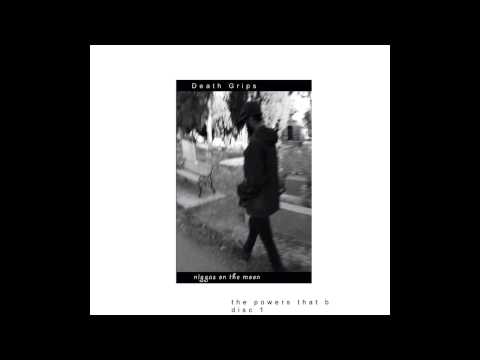 The controversial lyrics are present in abundance of course; even the title prompts a double take. 'Have A Sad Cum' is something of an interlude, but the title alone makes it the most hostile interlude imaginable. Death Grips are doing their best to shock, but by now it isn't so shocking- it's just the way they do things. And with the shock factor removed, Niggas On the Moon seems a lot less essential.
The good moments are very good, however. 'Fuck Me Out' is one of the best tracks Death Grips have ever recorded, simply because it encapsulates them perfectly. The opening "Get that call/ Can't hold shit down/ Fuck it all/ I'm going down" informs you exactly of what is coming, and the backing track accompanies Burnett's chanting in a way that lets the entire song bounce around carefree.
Finale 'Big Dipper' could almost be a track off The Field's latest album, if you took away the lyrics; such is the electronic repetition and trance that flow through it. It is the one point on the album where it feels Death Grips are heading in a new direction, it's just a pity we've had to wait this long for it to emerge, and of course, once it does, the album is at an end. Although it sets up the second half of the double LP (Jenny Death) rather well, you can't shake the feeling that one half of a great idea has been somewhat wasted.